A new economic club of nations
The G-20 summit this weekend will grapple with a global crisis.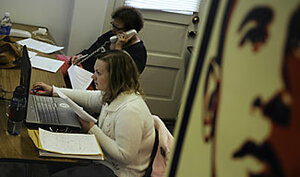 Chris Fitzgerald/Candidate Photos
A formal farewell to the American-led postwar financial system and a coming-out party for an expanded club of economic powers that will design new rules to meet the global financial crisis.
That is how this weekend's Group of 20 summit, called by President Bush, is likely to be remembered: not so much for the action taken, as for the milestone it marked and the emerging global economic order it heralded.
"The summit marks a more inclusive form of international cooperation" in dealing with the global economy, says Sebastian Mallaby, director of geoeconomic studies at the Council on Foreign Relations in Washington. After decades of a handful of leaders from the richest economies meeting to address the world economy, "just the creation of the G-20 at head-of-state level will be the first accomplishment."
One reason that the Washington summit, which begins Friday with a White House dinner, is not expected to reach any significant accords for addressing a deepening economic meltdown is that American leadership is in limbo. Mr. Bush invited President-elect Barack Obama to attend, but Mr. Obama declined, sticking to the long-held tradition of "one president at a time."
---