G-20 leaders agree to next economic steps
They pledge a more coordinated response to the global financial crisis, including stronger regulation.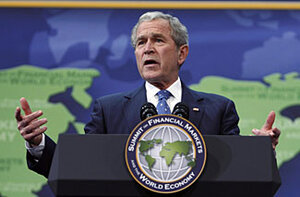 Jim Young/Reuters
It was no Bretton Woods II. But the Washington economic summit may have made history by, in essence, expanding the world's financial board of directors – and starting a process that could lead to more coordinated global action on the current crisis in months to come.
Summit leaders agreed to hold a follow-up meeting on April 20. By then, the US will be led by a new Obama administration, which may be more inclined than its Bush predecessor to accept international financial regulatory reforms.
That doesn't mean that a President Obama will accept the sort of cross-border financial regulation that Europeans have long pushed for, say analysts. But it may mean that at the least he will accept a larger role for the International Monetary Fund (IMF) and other global institutions.
"You can expect that the [Obama] administration will listen and be more responsive precisely to where it is that America's actions fit into the larger global context," said Colin Bradford, a Brookings Institution expert on international economics, at a seminar on the Washington summit.
Bretton Woods was the seminal 1944 conference held at Bretton Woods, N.H., where 44 nations drew up the postwar global financial order. They created the IMF and the World Bank at that meeting, among other things.
---