Bored at work? Read this.
A third of all U.S. workers struggle with 'boreout.' But there are remedies.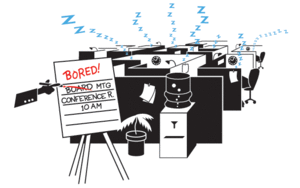 Scott Wallace
Nicole Haase would like to work harder than she does. But as a receptionist and payroll administrator for a manufacturing firm in Milwaukee, she finds limited opportunities to take on more duties.
"Work is slow, and we're a small company, so it's not always easy to find other things to do," Ms. Haase says. To fill empty moments, she e-mails friends and works on freelance writing assignments. "The Internet is my friend – anything to make the time pass," she says, adding that the strain of having too little to do creates its own kind of burnout.
Now there's a name for this kind of underemployment: boreout. In a new book, "Boreout! Overcoming Workplace Demotivation," authors Philippe Rothlin and Peter Werder call it a pervasive problem. Studies show that one-third of workers in the United States do not have enough to do. Underchallenged employees spend more than two hours a day on personal matters. Employers waste over $5,000 a year per worker on boreout.
The authors, business consultants in Europe, explain that boreout, the opposite of burnout, consists of three elements: being "understretched," uncommitted, and bored in the workplace.
---