Where should bailout dollars go?
Demand for aid is rising but federal funds are limited.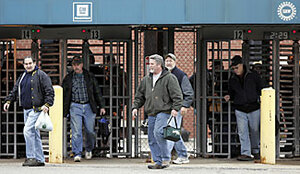 Rebecca Cook/Reuters
At first, the bailouts were only for major financial firms, but a souring economy has created an expanding list of potential recipients for policymakers to consider.
Assistance for automakers. New mortgage rescues targeted not at lenders but at struggling homeowners. Aid for cities and states that are running short of cash.
Those are some of the sectors where new federal billions could be deployed in coming months. The scope of rescue programs appears likely to widen even as the tab for the core bailout – the one centered on banks and other financial firms – also keeps rising.
But federal resources aren't infinite. With the size and shape of assistance rapidly evolving, how the money is managed could significantly influence the depth and duration of the current slump.
That's one reason why the tone of economic hearings and debates in Congress remains fierce even with Election Day in the rearview mirror.
The challenge ahead: How to make each dollar of intervention go furthest to restore the confidence of private-sector businesses and offset consumer weakness caused by a poor job market and falling home values.
"You have to think big at this point," says Tim Duy, an economist at the University of Oregon in Eugene. "You have to think big stimulus [for the economy], and you have to think big financial restructuring."
But even while arguing for significant new interventions, he's adamant that the next stages of an economic rescue must involve careful choices.
---