A lone bright spot in real estate: farmland
Iowa land prices have jumped 18 percent in a year. But higher values come with a cost.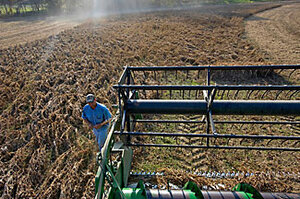 Ann Hermes/The Christian Science Monitor
While urban and suburban homes are falling in value, farmland is soaring. It's arguably America's strongest real estate market.
Nationally, farmland is up nearly 9 percent from a year ago. In Iowa, it's up 18 percent; South Dakota, up 21 percent. Illinois has seen farmland values nearly double since 2004.
But rising land values cut both ways for farming communities. While they increase local wealth of landowners and bring in new money, they also shut most young people out of farming and cause even established producers to pay more to rent land. They also speed the concentration of farmland into fewer and fewer hands, some economists and rural advocates say.
Rising values put land "out of reach to all but those who have large farms and/or corporate backing," says Brian Dabson, a professor at the Truman School of Public Affairs at the University of Missouri-Columbia and executive vice president of the Rural Policy Research Institute. "And that's not healthy for a rural economy."
Land prices certainly hurt the young and the aspiring farmers.
---