Auto giants up against bailout fatigue
For many lawmakers of both parties, it may be one costly bailout too many.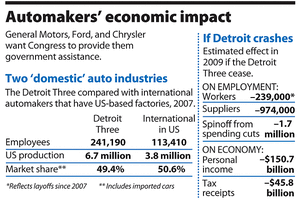 SOURCES: Center for Automotive Research, Ward's Automotive, Yahoo! Finance/© 2008 MCT
Financial support for the beleaguered US auto industry? In today's Washington, that may represent a bailout too far.
Democratic leaders in Congress insist that they'll push hard for aid to automakers in this fall's lame-duck legislative session. They want to tap the Treasury's $700 billion financial rescue package for emergency loans to Detroit.
But the legislative rank and file may be experiencing bailout fatigue following weeks of shoveling billions at reeling Wall Street firms. And the Bush administration remains opposed to what it calls handouts for failing – and highly unionized – auto manufacturing firms.
The situation could change the minute a new Obama administration takes office. But for now, control of the US government remains divided between the parties, and the Big Three appear to be the place where the GOP is drawing its line.
"Some Republicans may see this as an opportunity to get back to their tried-and-true free-market principles," says Alan Abramowitz, a political scientist at Emory University in Atlanta who studies the makeup of political parties.
---