Why Yahoo's Jerry Yang stepped down
His performance showed that not every start-up whiz can be a turnaround CEO.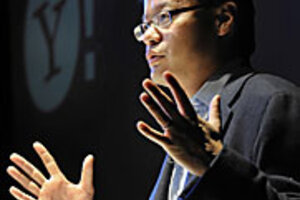 Toby Melville/Reuters
The rise and fall of Jerry Yang, the departing CEO of Yahoo, captured the imagination of an industry built on just such meteoric climbs and merciless tumbles.
Just 17 months ago, Mr. Yang got a rare second chance as a cofounder of a start-up to take charge again of his creation in its hour of need. For some techies in Silicon Valley, the moment represented a pleasing break from the outside "suits" and "grown-ups" who invariably take over maturing start-ups at the cost of scrappy innovation. It held out the promise of mirroring another triumphant second act, that of Steve Jobs at Apple.
But any honeymoon in the Valley for Yang ended quickly. He came under withering criticism for his handling of a Microsoft takeover, then for losing a partnership with Google. By the time Yang's step-down was announced Monday the only surprise seemed to be that it took the board of directors so long to act.
Wall Street rewarded the move Tuesday, with Yahoo shares rising 11 percent to $11.82 as of press time. Investors apparently felt prospects for a Microsoft buyout have brightened – a point which divides analysts. Despite the darkening horizon for online advertising in a slowdown, many agree the company has plenty of strength left, provided the right leader can be tapped next.
Yang didn't seem to be what Yahoo needed now: A founder's strengths differ from those of a turnaround CEO, analysts say. Few excel at both: Steve Jobs may just be that rare exception.
---