Relief at pump: gasoline below $2 a gallon
Prices have dropped by half in a few months, and could go lower still.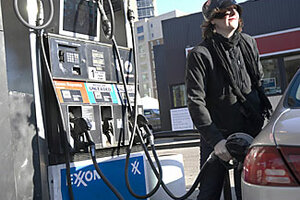 Sarah Beth Glicksteen/The Christian Science Monitor
Here's something to be grateful for: This Thanksgiving, the price of gasoline is expected to be below $2 a gallon. Some analysts foresee pump prices as low as $1.75 a gallon this winter.
The average US price of a gallon of regular is now $1.99, according to GasPriceWatch.com, a price-tracking firm. The last time gasoline prices were this low was March 2005.
Since July, the price of fuel has dropped by half, cutting the cost of filling up a family sedan's 13-gallon tank by about $26. The savings could help strained family budgets – perhaps giving a household that has two cars an extra annual income of $2,400, if current prices hold.
"Dropping energy prices are the only economic ray of sunshine," says Mark Zandi, chief economist at Moody's Economy.com. "Every penny decline in the price of gasoline saves the American consumer [collectively] $1 billion over a year."
It's not just gasoline prices that are falling. Home heating oil is down $1.60 a gallon from its peak of $4.53 a gallon in July. And it's down 26 cents a gallon compared with a year ago. Natural gas, meanwhile, is down 33 percent from its peak this summer of $20.19 per thousand cubic feet. Reflecting these lower energy and transportation costs, some food goods are also less expensive.
On Wednesday, the falling prices resulted in a 1 percent decline in the Consumer Price Index – the steepest drop since the government started keeping records in 1947. Even if food and energy prices are excluded, consumer prices still fell, dropping 0.1 percent. It was the first decline in "core prices" in 25 years.
"If you look economywide, if these prices were sustained, it would save consumers $200 billion on their commodity bill in 2009," Mr. Zandi says. "That would be a significant and helpful savings."
---