Global deflation risk grows
October saw one of only seven monthly drops in the core Consumer Price Index since 1947.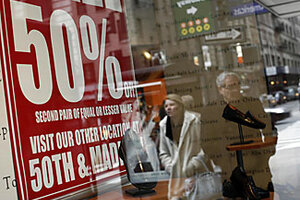 SHANNON STAPLETON/REUTERS
Global concern about inflation, which was widespread just a few months ago, has given way to worries about an opposite and potentially more dangerous problem: deflation.
In the United States, the Consumer Price Index (CPI) took a rare nose dive, plunging by 1 percent in October, the Labor Department said Wednesday. That's the largest fall in a single month since 1938.
Much of the price decline so far is concentrated in energy, and most economists aren't forecasting that 2009 will see the kind of broad and persistent price declines that helped make the Great Depression so severe.
Still, a wider downdraft in prices is possible, and if unchecked it could restrain consumer and business spending and make it harder for the economy to recover from a global slump. That's one reason central bankers and finance ministers are acting to ease interest rates, prop up banks, and ramp up government spending as a stimulus.
"A deflationary depression is a very real possibility," says Ed Yardeni, an economist who heads Yardeni Research in Great Neck, N.Y. "We're now experiencing a dangerous negative feedback loop between the problems in the credit system and a downturn in the economy. The policymakers around the world are attempting to break that vicious cycle."
In the October report, consumer prices fell slightly in the so-called core index that strips out food and energy – a sign that price weakness extends beyond real estate and the gas pump. The core index has declined in only six other months since 1947.
The 0.1 percent month-over-month drop in the core price level surprised forecasters. The trend is probably continuing this month, as struggling retailers slash prices going into the holiday sales season.
---