In Michigan's auto belt, it's nail-biting time
Workers and residents worry that one of the Big Three might not make it.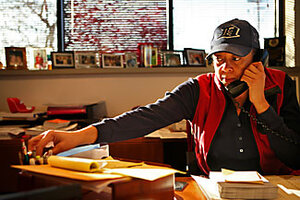 Melanie Stetson Freeman/Staff
For Jackie Kelly-Smith, the General Motors pensions that support her and her husband, and pay for their healthcare, are on the line.
Dan Dostine, a furnace repairman at Chrysler, is worried he may lose his $33-an-hour job, with few prospects for other decent-paying work in the area.
The mayor of Warren, Mich., is on pins and needles, wondering if his city's already-strapped budget will take a hit in the event that revenues from automakers – which make up 15 percent or more of the total – slide precipitously.
Much of America is watching to see if the ailing US auto industry will get the bailout it says it needs. But nowhere is the outcome more personal than in the factory towns of southeast Michigan, where nearly every job seems linked in one way or another to the auto industry, and where auto workers, suppliers, and retirees are biting their nails and assessing their options.
They're acutely aware of the negative perceptions of their industry – and in some cases are themselves critical, especially of top management. But many workers here harbor hope that, in the end, the rest of the country will come to sympathize with their plight or, at the least, decide that all the jobs on the line and the economic costs to America are too much to risk.
---