Retail season starts strong, but a long haul ahead
Sales were better than expected this past Black Friday, but will it last till Christmas?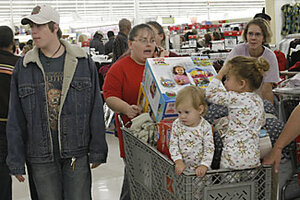 Mario Villafuerte
In Rochester, N.Y., the roads were clogged at 4 a.m. last Friday as shoppers hit the malls looking for bargains. In Burlington, Mass., it took as long as 25 minutes to find a parking spot early that day. And at Lenox Square in Atlanta, throngs of shoppers hunted for discounts at shoe retailer Nine West.
Yes, Americans love the sound of 40 percent off. The deep discounts and promotions, retail analysts believe, were successful at getting Americans to open up their pocketbooks on Black Friday, one of the biggest shopping days of the year. Sales rose 3 percent above 2007 levels – better than expected, according to ShopperTrak RCT, a tracking firm based in Chicago.
But will the throngs be back in mall parking lots for the weeks before Christmas?
"Black Friday was strong because it always is. This is the starting gun," says Richard Feinberg, a professor at the Purdue Retail Institute at Purdue University in West Lafayette, Ind. "But this is a marathon, and by the 20th mile, consumers will be out of steam."
Even ShopperTrak warned that the decent Black Friday numbers may not last through the season.
---