Michigan's survival plan: Find new industries – fast.
Long dependent on auto manufacturing, the state and its cities are bracing for even deeper budget cuts.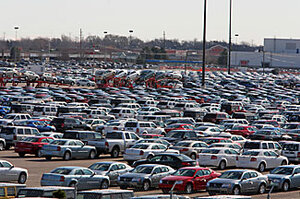 Melanie Stetson Freeman/Staff
In plenty of towns around Michigan, signs of the flagging economy are already visible.
The state, which has been in recession for the past five years, has seen a steady loss of jobs every year since 2000.
But now, Michigan is peering over the edge of its bleakest prospects in decades – and keeping a close eye on negotiations in Washington, where representatives of the Big Three US car companies are making their case to Congress this week for why they deserve federal bailouts.
More than any other state, it would feel the effects of a failure – or even a severe contraction – of one or more of those companies.
"The Detroit Three are 12 times as concentrated in the state of Michigan as in the rest of the country, so whatever happens to them is going to have roughly 12 times the impact on Michigan as on the rest of the country," says Don Grimes, an economist at the University of Michigan in Ann Arbor. The state, he acknowledges, has been trying to diversify its economy and has made some progress, "but it's overwhelmed by the auto industry."
---