America's 'other' auto industry
In the South, host to foreign-owned plants, there is little sympathy held for Detroit.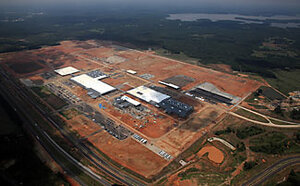 Ace Aerial Photo/AP
The US auto industry is throwing bolts, but here in Georgia's Chattahoochee Valley a South Korean car company is building a massive new manufacturing plant along the new Kia Parkway, replacing abandoned textile mills. The recently opened Korean BBQ House now vies for customers with Roger's Pit-Cooked Bar-B-Que. And in an indication of just how welcome Kia's nonunion jobs are, some 43,000 people applied for 2,600 positions – with starting wages of $17 an hour – as the plant gears up to turn out its first model next November.
The expansion of this "other" auto industry – one that's foreign-owned, nonunion, and based largely in the South – stands in stark contrast to this week's dire reports from America's own Big Three, whose CEOs laid out plans for a dramatic downsizing before traveling to Washington to plead for $34 billion in federal aid.
Two-thirds of "foreign imports" are, in fact, built in the United States in nonunion shops, where it costs at least $2,000 less in labor to build each vehicle.
Critics charge that the Japanese, Korean, and German auto companies are taking advantage of desperate communities and a longstanding distrust of unions in the South. But among people in West Point, Ga., the vision of a foreign-owned Southern car industry standing on its own two feet while Detroit teeters comes down to this: the worth of a day's work, and the role – or nonrole – of unions like the United Auto Workers (UAW).
---