Auto bailout: Congress gets closer to a decision
Lawmakers say bankruptcy for Detroit's Big Three is 'not a viable option.'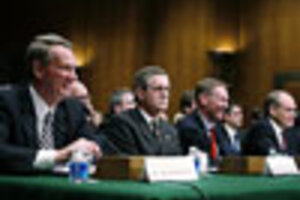 Joshua Roberts/Reuters
Two weeks after bruising hearings on their plea for federal help, Detroit's Big Three returned to Capitol Hill with a bigger request, a chastened tone, and more political muscle.
Heading toward what would be the last vote of the 110th Congress, Democratic leaders and the Bush White House are still at odds over how to fund the automakers' $34 billion loan request.
But there's a growing consensus among lawmakers once critical of the bailout that inaction – or punting the decision to the Obama administration – is no longer an option.
"Bankruptcy is not a viable option, because it will seal the death of the domestic automobile industry," said Sen. Charles Schumer (D) of New York, at a hearing of the Senate Banking Committee on Thursday.
"I think I speak for many of us here: We care less about where the money comes from than how it's spent," he said, adding that he still did not trust the management of US auto companies to direct their own recovery.
In a bid to regain trust on Capitol Hill, the CEOs of the Big Three drove to Washington for back-to-back hearings this week – eschewing the corporate jets that riled lawmakers at their last appearance on Capitol Hill.
---