Madoff scam saps confidence in Wall Street
Angry investors blame US regulators for one of the investment world's biggest scandals.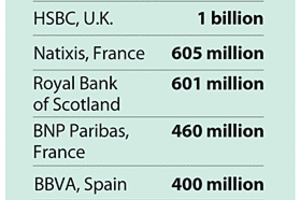 SOURCES: Reuters, AP /© 2008 MCT
Just what the financial markets don't need: another scandal.
With confidence already shaky, sophisticated investors ranging from suave Spanish bankers to Palm Beach retirees have lost billions of dollars in what is one of the biggest scandal to ever rock the investment world.
Law enforcement officials are still trying to figure out what happened to some $50 billion run by Bernard Madoff, who was arrested last week. It appears he was operating an old-fashioned Ponzi scheme, one of those arrangements where new investors finance returns to the old investors. But no matter what investigators turn up, the scandal represents another cloud over Wall Street and its watchdog agency, the Securities and Exchange Commission.
"The main impact from a systemic point of view is that it undermines the already fragile levels of confidence," says Peyton Young, a senior fellow at the Brookings Institution in Washington.
Overseas, where there were major bank losses, newspaper headlines and radio reports practically screamed warnings about the US markets. In Britain, the Daily Mail wrote, "You'll pay, families warned after British firms are taken for a £3.5bn [$5.3 billion] ride."
---