Now in vogue: saving
Attitudes change as Americans take financial hits.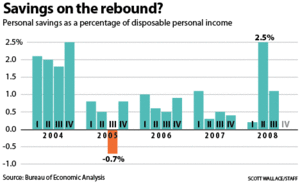 Bureau of Economic Analysis
Earlier this decade, when many Americans were racing to grab fancy cars and larger houses, they also loaded up on debt.
In those go-go spending days, the personal savings rate – the percentage of current disposable income that's not spent in the current period – was less than 1 percent each year from 2005 to 2007, according to the Commerce Department's Bureau of Economic Analysis (BEA).
Indeed, last year's 0.6 percent savings rate meant that, on average, 99.4 percent of Americans' disposable income was being spent.
But with a host of financial shocks hitting Wall Street and Main Street – a recession, rising job losses, tumbling real estate and stock values – attitudes toward savings are changing. "We're going to start being moderate savers and not live beyond our means," says David Wyss, chief economist at Standard & Poor's Corp.
Moreover, he expects that behavior to last until the "economy has stayed good enough for long enough" for people to forget what has happened, especially to the value of their homes and equities. "Normally, it takes around 10 years of steady economic gains for them to forget" any economic woes that they've endured, Mr. Wyss says.
Already this year, the personal savings rate has shown some flickers of improvement. According to the BEA, the rate was a paltry 0.2 percent in the first quarter, jumped to 2.5 percent in the second quarter with the help of tax rebate payments, and fell to 1.1 percent in the third quarter. In October, however, the monthly personal savings rate was 2.4 percent. November's figure is to be released Dec. 24.
---