Housing: More help may be needed
As home prices continue their dramatic fall, policymakers debate how much to intervene.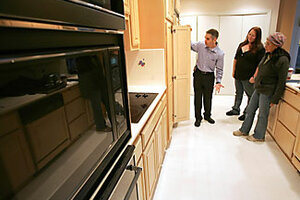 Tony Avelar/The Christian Science Monitor
A steady decline in US home prices shows no sign of ending – a pattern that promises to intensify the search for additional policies to heal the housing market.
Today, some two years after the housing market peaked, widening job losses mean that the downward momentum remains as strong as ever. On Tuesday, twin reports confirmed the trend. The sales volume of both new and previously owned homes dropped more than expected in November. The median price for preowned homes plunged 13 percent from a year before, the largest drop in records going back to 1968.
The wider economic impact of these housing woes is significant – more so than in typical recessions.
In response, policy makers are considering a larger role for government in two possible ways: as a partner in efforts to reduce foreclosures and as a guarantor of low interest rates for home buyers. But every proposed solution has drawbacks, and some economists say it's not clear that a big role for government would be a good thing.
"We're in a situation where the jobs and the incomes have to come first," not housing policy, says Saul Hymans, a University of Michigan economist. "Everything else follows from that."
Even many economists who favor new housing-market interventions agree that America's economic challenge has shifted significantly since the start of the year. Housing remains at the core of the distress that has roiled credit markets, but the economy's biggest issue is job losses.
That's why a big economic stimulus package – creating jobs and using the government's checkbook to offset consumer retrenchment – has moved to the top of President-elect Obama's agenda.
Still, the housing market is a big priority for many economists, including ones advising Mr. Obama. The Democratic-controlled Congress is also readying mortgage-related legislation.
---