How to hold money managers accountable
Madoff case shows need for custodial accounts when working with advisers.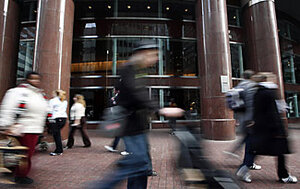 chip east/reuters
Who's holding your money?
As the list of wealthy individuals, institutions, and charities that have lost millions, even billions of dollars in the Bernard Madoff fraud case continues to grow, other investors have been asking an important question: Why was there no independent custodian holding the securities and other assets Mr. Madoff's firm was said to be investing?
In a legitimate arrangement between an individual investor and a money management firm or financial planner, the money manager may buy and sell stocks, bonds, mutual funds, and other investments on behalf of the client. These trades are often, but not always, made after consulting with the client.
But the money manager does not – in fact, experts say, should not – have access to the client's money. Rather, it is held in a separate "custodial account." Several large firms, including Charles Schwab, Fidelity Investments, and T.D. Waterhouse, provide custodial services.
Checks from the client should be made out to one of these firms, not to the planner or adviser. Every month, both the client and the adviser receive a statement from the custodial firm showing the current value of the account, as well as a list of any trades. If the client wants, he can even go online every day to check his balance. This arrangement isn't much different from if an investor made trades through Schwab or Fidelity himself; he's just giving the adviser authority to use those firms to make trades on his behalf.
The importance of independent custodians is likely to grow as more investors turn to professionals to manage their money. Many recent retirees, for instance, may have several hundred thousand dollars or more in 401(k) or 403(b) plans that they want to roll over into IRAs, and they're looking for professional money management. In general, a planner's service costs about 1 to 1.5 percent of client assets per year.
---