Charities borrow for-profit strategies to do good
Hybrid businesses enlist nonprofit strategies as well to achieve selfless goals.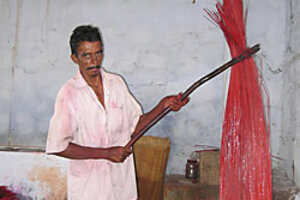 Courtesy of Kim Alter/Virtue Ventures
Industree Crafts helps rural artisans in India get out of poverty by selling their colorful handiwork to customers around the world. But it also wants to make a profit that it can plow right back into the business to help it grow.
To accomplish these sometimes conflicting tasks, Industree has split into two organizations: Industree Crafts Private Limited, a for-profit company that's opening a new line of stores and products called Mother India; and Industree Crafts Foundation, a nonprofit group that accepts charitable grants to help it train more artisans.
Industree is just one of countless social enterprises that have sprung up in recent years. They aim to bring the techniques of the business world into the realm of doing selfless good.
Originally, that meant imbuing nonprofits with the discipline and savvy of the business world. But increasingly, philanthropic endeavors are becoming hybrids. They may start as either for-profit or nonprofit entities, switch as needed, or, as Industree Crafts did, take advantage of both ways of working.
What we're seeing now is "a new generation" of young "social entrepreneurs," says Kim Alters, managing director of Virtue Ventures, a management consulting firm near Seattle that advises start-up companies with social missions. Universities such as Harvard and Oxford, Ms. Alters says, now offer classes on how to be a "hybrid manager" or "hybrid entrepreneur" using both nonprofit and for-profit techniques. (Alters teaches such a course at Oxford.)
---