Falling US consumer spending making tough times tougher
Personal consumption may fall this year to levels not seen since 1942, some economists say.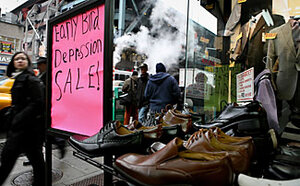 Craig Ruttle/AP
The pullback in US consumer spending, which accelerated ahead of the holiday season, appears likely to be sharper in 2009 than any such retrenchment since World War II.
That sobering forecast from economists goes a long way toward explaining why they generally support the idea of a large government stimulus effort, as President-elect Obama urged Thursday.
As large as it is, the stimulus won't fill the hole created by consumers. The pullback from shopping malls won't last forever, but for now, it's a reaction to tough times that is making these times even harder.
Signs of consumer pressure abound:
•In a nation that has migrated away from Macy's and toward Wal- Mart over the past year, now even Wal-Mart is paring back its earnings forecast.
•Faced with a February switch over in the format for television broadcasts, an unexpectedly large number of households are opting for low-cost converter boxes rather than buying new TV sets.
•People are putting off the biggest purchases, as car dealers can attest.
"Households are revising downward their assessment of their … income going forward, and revising upward their assessment of the likelihood of losing a job," says Steven Davis, an economist at the University of Chicago. "The environment has become much more uncertain."
The shops and boutiques of Boston offer a window on that uncertainty.
"I only make one check and I can hardly pay the bills," says Delories Dyer, a mother of two who supervises a cafeteria. Her husband is out of work.
"I never used to use coupons," she says. But with a family income now of about $450 per week, now she makes a point of it.
---