Jobless claims overwhelm state offices
The unemployment rate rose to 7.2 percent in December.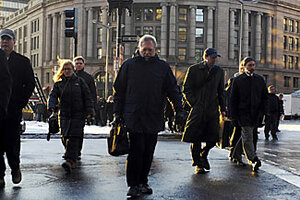 Joanne Ciccarello - Staff
Officials at state unemployment offices say they've never seen anything like it: Layoffs are happening so fast that those seeking unemployment benefits are overloading state computer systems, jamming phone lines, and making it necessary for administrators to hire temporary workers.
In some states, it's so bad officials suspect that only half the calls are getting through. Frustrated, the unemployed are e-mailing anyone they can find at the state agencies or are just hitting redial on their phones, sometimes hundreds of times. The problem will get worse before it gets better, say some officials.
"For the last six weeks, we have seen the highest [number of] weekly claims since we've been keeping records in 1985," says Mike Cullen, Colorado's unemployment insurance director.
"And they are increasing at an increasing rate," Mr. Cullen says.
Last Friday, some of this surge at state offices was reflected in the Department of Labor's monthly jobs report: In December, it said, the unemployment rate hit 7.2 percent, up from 6.7 percent in November. And employers shed 524,000 workers after letting go of 584,000 in November.
The job-loss total for all 2008 was 2.6 million, the most since 1945.
"What we are seeing is a portrait of an economy that is cratering," says Stuart Hoffman, chief economist at PNC Financial Services in Pittsburgh. "This explains why holiday sales were so weak, with people so concerned about their jobs, and why consumer confidence is so low."
---