Bank of America's $1.8 billion loss dims its prospects
Bank didn't foresee 'significant deterioration' in December. Merrill Lynch deal weighs on its future.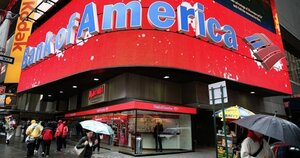 Craig Ruttle/AP/File
The deteriorating economy has dragged down Bank of America, causing the nation's largest consumer bank to report its first quarterly loss in 17 years.
The $1.8 billion in red ink, announced Friday, was magnified by the separate news that Merrill Lynch & Co., which the bank acquired on Jan. 1, lost $15 billion in its last quarter as a separate entity.
Despite an overall profit of $4 billion, the twin fourth-quarter losses weighed on financial stocks, as did Citigroup, which posted an $8.3 billion fourth-quarter loss and, as a first step in resolving its problems, said it was going to split off its banking operations from $301 billion in troubled assets to be held by other units.
For the day, Bank of America saw its share price fall $1.14 per share to $7.18, down 13.7 percent.
The earnings news raises serious questions about Bank of America's prospects for 2009, the infusion of further capital from the federal Troubled Assets Relief Program, and the drag from other Bank of America acquisitions – such as Countrywide Financial in July.
"We did not expect the significant deterioration in mid- to late December that we saw," Bank of America Chief Executive Ken Lewis told investors in a Friday conference call that shed more light on the Merrill Lynch acquisition, which many describe as hurried.
---