Why banks still teeter, after $232 billion in aid
Losses on mortgage debt, followed by recession woes such as corporate bankruptcies and rising defaults on credit cards, delivered a one-two punch.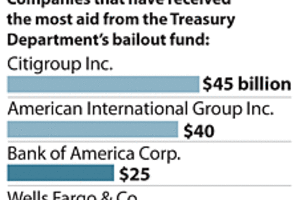 SOURCE: Keefe, Bruyette & Woods/AP
The troubled banking system continues to need help from Uncle Sam, even after a recent infusion of $232 billion, compliments of the US Treasury.
The main reason banks will likely get another taxpayer assist of, say, $200 billion: Their own balance sheets remain fragile, and almost no one else will give them new capital.
Banks sought billions in taxpayer assistance last year because of their losses in the mortgage and housing markets. Now, they are getting pinched by the recession as consumers miss payments on credit-card bills, developers default on loans for new office towers, and a rising number of companies go bankrupt.
"We are estimating they will need another $100 billion to $200 billion to offset their write-offs and keep their capital ratios in line," says Brian Bethune, chief US financial economist at IHS/Global Insight in Lexington, Mass., an economic forecasting and analysis firm. "After the problem in housing two years ago, we are getting these compounding effects from the recession."
The banks' continued need for capital resonated in Washington last week, with the Senate deciding it would not block the release of $350 billion more for the Troubled Asset Relief Program, even though many questions have been raised about how wisely the US Treasury used the first $350 billion in TARP funds that Congress authorized. The House is expected to take up the matter this week, but any vote would be symbolic because it takes both houses of Congress to block dispersal of the funds.
---