Geithner pledges swift, bold fix to financial system
The most prudent solution is 'the most forceful course,' the Treasury secretary nominee told Congress.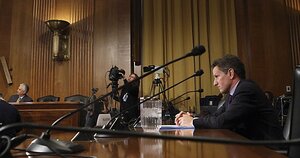 Pablo Martinez Monsivais/AP
Timothy Geithner is calling for the US government to perform an economic juggling act – taking bold and costly action to rescue the economy in the near term while seamlessly preparing to grab hold of a longer-term problem of high budget deficits.
That message was an important theme that emerged from a three-hour confirmation hearing regarding Mr. Geithner's nomination to be President Obama's economic point man as Treasury secretary.
As if to punctuate the high stakes involved in his job, Geithner's words on Wednesday came as bank stocks rebounded after a sharp plunge on Tuesday.
Stabilizing the US financial system remains an unfinished task, and one on which a solid economic recovery depends.
Promise of a plan
The nominee did not divulge details, but said that he and other policymakers are working on a comprehensive financial recovery plan that Mr. Obama will present to the public within a few weeks.
"The most prudent course is the most forceful course," Geithner said to members of the Senate Finance Committee.
He said the history of financial crises is one of governments responding too slowly and with too little force.
He also said that short-term stimulus and stabilization were not the only key ingredients for economic recovery. Also vital, he said, are longer term policies to promote new industries and budget plans that will steer the federal government away from big deficits toward fiscal sustainability.
"We as a nation will return to living within our means," he said, citing the need for an exit strategy from the extraordinary commitments of federal dollars to rescue the financial system during the current recession.
---