Global financial crisis overwhelms tiny Iceland
Protests in the capital escalated Tuesday and Wednesday with calls for the prime minister and Central Bank head to resign.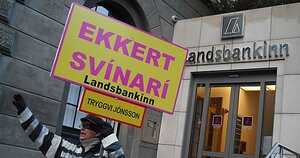 Colin Woodard
In the depth of winter, the sun shines about four hours a day here. But thousands of Icelanders – more than 1 percent of the entire country – have sacrificed much of their precious few hours of daylight in recent weeks to protest the financial darkness that now shrouds their island.
From dapper senior citizens to masked anarchists, an eclectic group gathers every Saturday to demand the resignation of their government. On Tuesday and Wednesday, they clashed with police in increasingly violent demonstrations that suspended Parliament.
They're furious over Iceland's recent plunge from the world's fourth richest nation – and the best in the world to live in, according to the United Nations – to global financial crisis roadkill. Its banks are ruined, the currency devastated, and one of the country's closest allies recently named it a terrorist state.
"This has been very hard for the nation," says protester Rosa Eyvindardottir, eight months pregnant and carrying a red socialist flag in her hand during a recent Saturday protest. "Maybe this is a lesson that we need to wake up and see what's been right and wrong with our minds."
Harbinger of trouble?
As the world holds its collective breath, worried that a global recession will become another Great Depression, Iceland is being seen as the canary in the coal mine, an early warning system that might indicate what other countries could face. With the dust beginning to settle from the banking system's collapse, Icelanders are taking stock of the mistakes.
---