New refinance boomlet may lift economy, a bit
Low mortgage rates act as a gentle spur, but they're not enough to revive the housing market.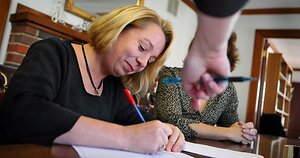 Melanie Stetson Freeman/Staff
Record low mortgage rates aren't proving to be an easy fix for the troubled US housing market, but they are providing a measure of much-needed stimulus to the economy.
In recent weeks, interest rates on home loans have plunged – thanks in part to government actions. Many borrowers have rushed to refinance their debt, a move that frees up cash in their bank accounts to spend on other things.
Like falling prices on gasoline and oil, the drop in interest rates acts somewhat like a tax cut for many consumers.
So are these low rates, coming before the Obama administration and Congress pass a formal stimulus package, enough to revive home sales and consumer spending?
Despite encouraging headlines about mortgage rates below 5 percent, that by itself may not bring a surge of buyers back to the housing market, and many current homeowners who want to refinance can't get approved in today's credit environment.
"It is a stimulus to the economy," and it's helping many households tame their debt burden, says David Wyss, chief economist at Standard & Poor's in New York. "But it's only people who can [qualify to] refinance … whose monthly payment goes down."
During boom, refinancing was a boost
In the bygone days of the housing boom, mortgage refinancing was a powerful spur to the economy. With home prices rising, mortgage applications reached a peak in May 2003, driven not just by home-purchase deals but also by current homeowners seizing the opportunity to cut the cost of their debt.
They got cash in their pockets from lower rates, which fell below 6 percent for the 30-year fixed-rate loan, down from levels of 7 to 8 percent in the 1990s.
---