States to win big in stimulus sweepstakes
House bill allots almost one-quarter of the $825 billion recovery package to states, localities. How will that boost the economy?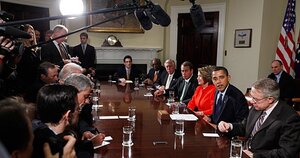 Charles Dharapak/AP
The economic stimulus plan now moving through Congress would shower billions of federal dollars on state and local governments desperate for cash.
The House stimulus bill includes an extra $87 billion in federal aid to state Medicaid programs, for instance. It allots some $120 billion to boost state and city education programs.
There's $4 billion for state and local anticrime initiatives in the legislation, not to mention $30-plus billion for highways and other infrastructure projects.
Overall, about one-quarter of the entire $825 billion recovery package would be devoted to activities crucial to governors, mayors, and local school boards – making them among the plan's biggest beneficiaries.
Such aid will help needy Americans keep their healthcare, and help teachers, police officers, and other public employees keep their jobs, say Obama administration officials.
Critics say Uncle Sam is about to allocate huge sums to bail out many states and cities that got themselves in trouble by overspending in boom times.
"It will reward states that have behaved irresponsibly," says Brian Riedl, a senior fellow in budgetary affairs at the Heritage Foundation.
This week could be a big one for the stimulus package. Individual House committees last week approved portions of the bill under their jurisdiction. Now those parts will be welded together, and the full House could vote on the package as soon as Jan. 28.
President Obama pushed hard for the bill over the weekend. In his first weekly presidential radio and video address, he said his American Recovery and Reinvestment Plan is critical to jump-starting the economy.
"It's a plan that will save or create 3 [million] to 4 million jobs over the next few years," said Mr. Obama.
---