Will stimulus work fast enough?
Major job cuts announced this week add urgency to the bill as it nears a House vote.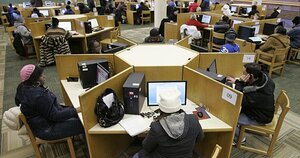 Al Behrman/AP
Given its size and scope, the mammoth economic stimulus bill now moving through Congress may be unprecedented in US history. In that sense it represents a leap into the fiscal unknown.
Many economists agree that some kind of government jolt for the economy is necessary. Job cuts announced this week have only added to this urgency. Caterpillar, the world's largest manufacturer of construction equipment, announced Monday it is eliminating 20,000 positions, about 18 percent of its workforce. Home Depot said it is shedding 7,000 jobs. Drugmaker Pfizer will cut 8,000.
That said, the stimulus package is a hybrid of short-term job creation efforts and long-term investments, with tax cuts and increases in social programs thrown in. Its macroeconomic impact remains uncertain. One particular question remains open: Will Uncle Sam's cash begin flowing into the US economy in time to head off further deterioration?
"The economic benefit of the [stimulus] plan critically depends on how quickly the government spending can occur," said Mark Zandi, chief economist of Moody's Economy.com, in testimony before the House Budget Committee on Tuesday.
---