Fed eyes moves against deflation
With consumer prices expected to fall further, economic recovery might be tougher to achieve.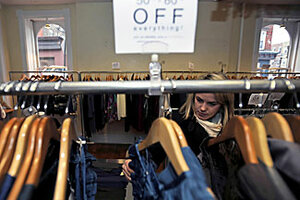 Ann Hermes/the Christian science Monitor
Despite the Federal Reserve's historic moves to ease monetary policy, forecasters expect consumer prices to post a rare decline this year – a potential threat to economic recovery.
The challenge: Reviving the confidence of businesses and consumers tends to be much harder when prices are falling.
In a deflationary climate, the predisposition is to postpone economic activity, because things are expected to become even cheaper.
That basic psychology, as well as the obvious distress in America's banking system, is something Fed policymakers have been weighing in recent meetings.
"[Fed chairman] Ben Bernanke is rightly concerned about deflation right now," says Desmond Lachman, a financial expert at the American Enterprise Institute in Washington. "Getting inflation back into the system … is not going to be sufficient," but it would help to resolve the financial crisis.
This idea can seem counterintuitive. The Fed's typical worry is about keeping inflation from running out of control. And it was the runaway rise in US home prices that helped set the stage for the current crisis.
Economists aren't of one mind on the right course for central bankers now. Some are concerned that efforts to revive growth could sow the seeds of an inflation problem down the road.
Yet in rare times, deflation can become a much bigger problem than inflation.
Recent indicators suggest at least a risk that this may be one of those times:
---