Is a 'bad bank' for risky assets the solution to the financial mess?
The Obama administration is considering it as a way to avoid outright nationalization of the banking industry.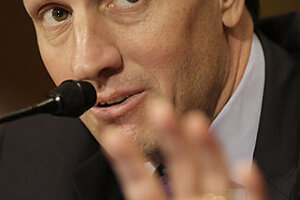 Pablo Martinez Monsivais/ap
With the financial crisis now midway through its second year, a central problem for the US economy remains: how to convincingly clear away a garbage-pile of bad debts at banks and move forward with a solvent industry.
A leading idea under review by the Obama administration is to set up a so-called "bad bank" as a holding pen for the risky assets that spawned the crisis. Administration officials have talked about this concept, and have said they want to avoid temporarily nationalizing some very large banks.
No fix is easy. Every option comes with questions about its cost to taxpayers, its political support, and – most important – whether it will work.
Obtaining the assets to put in a bad bank while avoiding a federal takeover of the largest troubled banks raises the same challenge that the Bush administration ran into when it launched the $700 billion Troubled Asset Relief Program (TARP) last October.
The problem?
It's not easy, or cheap, for the government to buy up bad assets. If it doesn't succeed in removing enough of those assets from the banks, the crisis may linger.
What has been happening in recent months follows a familiar pattern from past financial crises around the world. If addressed too tentatively, banking problems deepen and become more expensive to resolve. The remaining TARP money – the second $350 billion now being sought by President Obama – may not be enough to fix the system.
"He could be about to make a big mistake, unless the government winds up owning maybe 80 or 90 percent" of some of the institutions it rescues, says Pete Kyle, a finance professor at the University of Maryland.
By taking a large ownership stake in these institutions, the government and taxpayers stand to reap benefits if the banking system recovers as they shoulder the risk of big losses.
---