In tough times, US consumers forging new behaviors
American spending has fallen further in the past six months than it has since 1974.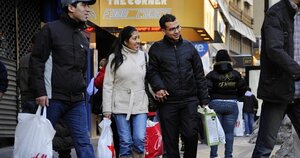 Mary Knox Merrill/Staff
Consumer behavior in America appears headed toward a new normal that includes less household debt, more saving, and cooler expectations about home prices in the future.
The latest sign of this transition came Monday, when the US Commerce Department reported that consumer spending fell in December for a record sixth straight month, and the savings rate rose.
While personal income fell 0.2 percent for the month, spending fell even further – a full percentage point.
Much of what's happening is a short-term reaction to tough times as the risk of unemployment has risen. But economists say it also reflects a longer-term transition in response to the end of an era of soaring home prices.
Over the past few months, consumers have staged their largest pullback in spending since the recession of 1974 – even though falling energy prices have effectively put more cash in their pockets. But those gas-pump savings still represent a boost for households, which could help set the stage for consumer spending to begin to revive later this year.
"It's helping to repair the balance sheet, which is all to the good. It creates a stronger potential for consumer spending down the road," says Ken Mayland, president of ClearView Economics near Cleveland. "We are going to see a new consumer emerge from this rubble."
Consumer spending to rebound?
Forecasts these days come with a large degree of uncertainty, but most economists see consumer spending resuming an upward trend later this year, according to a January survey by Blue Chip Economic Indicators. Most say that the worst of the recession will soon be in the rearview mirror.
---