Obama's bind over aid to banks
More US money won't be easy to win, complicating his efforts to restore the system to health.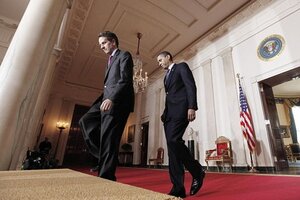 Charles Dharapak/AP
The Obama administration faces a difficult test as it prepares a plan for restoring America's banking system to health: The cost estimates keep rising even as public mood is skeptical of anything with the word "bailout" attached.
This political bind, at a time when President Obama is stretching to win support for a large stimulus package, could affect the shape of his comprehensive plan for ailing banks.
The stakes for the economy are high. No fix for the financial system will be simple or cheap, but a plan that fails to work could prolong the recession. And some experts worry that efforts to keep costs low in the short run could end up making taxpayers foot a higher bill down the road.
"The cost of any kind of government action is going to be huge whatever way you slice it," says Desmond Lachman, a finance expert at the conservative American Enterprise Institute in Washington. "The cost will be all the greater if they don't do the right things."
Already, about $350 billion has been allocated by the US Treasury to rescue financial firms.
---