When it comes to taxes, more Americans than ever say, 'Pay up'
Daschle's, Geithner's, and Killefer's tax missteps come at time when 89 percent of Americans say it's unacceptable to fudge.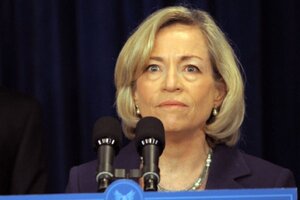 Mandel Ngan/AFP/Newscom
The tax woes of three of President Obama's top-level appointees come at a touchy time.
Amid deep economic troubles and taxpayer-funded bailouts and stimulus packages, many Americans are supersensitive to double standards between political and business elites and "the rest of us." Some are angry because a different set of rules seemed to be in play on that basic civic responsibility: paying taxes.
Despite the news headlines this week, the US has a remarkable culture of tax compliance, and that attitude seems to be strengthening.
In a 2008 survey sponsored by the IRS Oversight Board, 72 percent of citizens said they "completely agree" that it is every American's civic duty to pay their fair share of taxes, and 89 percent – the most ever – said it is "not at all" acceptable to cheat even a little. The most recent IRS review of compliance found that, in tax year 2001, an estimated 86 percent of taxes owed were collected.
"The problem is not with the average person," says Paul Caron, a law professor at University of Cincinnati and author of the TaxProf blog. "There's a growing unease about people playing by a different set of rules ... and that can undermine the system."
Mistakes, not evasion
---