US unemployment up – and spreading
January's loss of 598,000 jobs hit factory workers and professional and business-services employees hardest.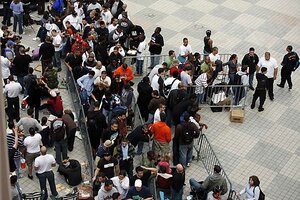 Carlos Barria/Reuters
The US jobless problem is getting worse – and it is now spreading from housing and manufacturing to almost every sector of the economy.
In the clearest signal yet that business has gone into survival mode, the nation's unemployment rate climbed to 7.6 percent in January, up from 7.2 percent in December. The economy also shed 598,000 jobs, the worst performance since the end of 1974. Over the past two months, more than 1 million Americans have lost their jobs.
"This is about as bad as it gets," says Dan Meckstroth, chief economist at Manufacturers Alliance/MAPI in Alexandria, Va. "There is no good way to spin this as anything good."
Pressure on Congress
The grim news on the job front is putting Congress and the Obama administration under more pressure to pass a stimulus package and concoct a financial bailout. (Click here for an update on the stimulus.) The prospect of Congress finally passing a large stimulus bill helped push the stock market higher on Friday morning.
Since October, the nation's unemployment rate has climbed by 1 full percentage point, a pace of layoffs not seen on an annual basis since 1982. Given the number of announced layoffs and the rising number of new claims for unemployment, some economists expect the February job losses could be even worse.
---