Less stuff = more freedom
In this economic downturn, many people are simplifying their lives by getting rid of excess stuff.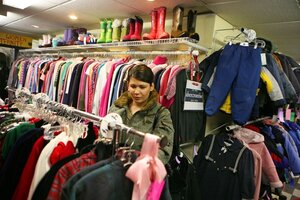 Melanie Stetson Freeman/Staff
Two months ago, Beth Dunn of Atlantic City, N.J., embarked on a quiet mission at home. Feeling overwhelmed by possessions her family no longer used, and keenly aware that many Americans are struggling financially in the recession, she began paring down and giving extra items – clothes, toys, books, DVDs – to charities.
"Cleaning, donating, and not replacing things gives me a sense of control during this economic upheaval," says Ms. Dunn, a novelist and the mother of two sons. "Charitable donations are down. It's important to give to people in need, even if you can't give money."
That attitude is rippling across the country these days as people seek ways to simplify their homes and calm their lives amid economic turmoil. No longer under the spell of retailers and economists who urge them to shop, shop, shop, some are renouncing excess, reordering priorities, and looking at possessions in careful new ways. In the process, they are experiencing a welcome sense of freedom.
"It's finally percolated into the culture that we don't need all that stuff or that big a house," says Sarah Susanka, an architect in Charlotte, N.C. It's a message she has been preaching for a decade in a series of bestselling books bearing titles such as "The Not-So-Big Life" and "The Not-So-Big House."
---
Follow Stories Like This
Get the Monitor stories you care about delivered to your inbox.