An urgent call to 'buy local'
Job developer Michael Shuman seeks to rebuild struggling communities with home-grown businesses.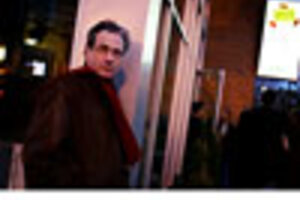 Michael Bonfigli/Special to The Christian Science Monitor
For Michael Shuman it was the equivalent of an earthquake. Seeking cheaper labor in Canada, Toronto-based Branscan Corp. threw 1,400 people out of work by closing two paper mills in Millinocket, Maine, in 2002. The unemployment rate in this region of central Maine skyrocketed to Depression era levels of nearly 40 percent.
Mr. Shuman, an economist and job developer, was called in for damage control. Aided by an $8 million federal grant, he and his colleagues at Maine's Training and Development Corp. were able to help most of the laid-off workers get back on their feet. But the experience convinced Shuman to do what any sensible person might do after such a calamity: Build something that's earthquake-resistant.
To him, that involves locally owned businesses.
For the past five years, Shuman has been barnstorming across the United States, preaching the gospel of economic "localism." It's an appeal to community values as well as economic self-interest, a call to support locally owned businesses that don't outsource, don't pack up their businesses and leave on a moment's notice, and who recycle their customers' dollars back into the community.
---