Lose money to Madoff? Don't cry to Uncle Sam.
Some gear up for lawsuits, but few expect much help from the US government's 'investor protection' group.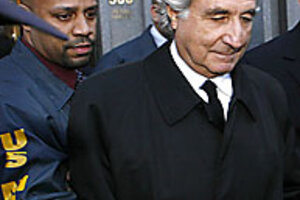 Lucas Jackson/Files
Nearly three months into the Bernard Madoff scandal, the financier's investors are learning a tough lesson in financial management: Their best recourse may be asking for help from a tax accountant or lawyer – and forget about the federal government's anointed investor-protection group.
Mr. Madoff was arrested Dec. 11 and charged with defrauding thousands of investors of as much as $50 billion in what authorities say was the biggest Ponzi scheme in history. His clients included banks, hedge funds, charities, universities, and wealthy individuals.
The options for investors to recoup their losses are now shaping up. For some that means filing a lawsuit. Alan Cosner, an attorney in East Brunswick, N.J., and a former IRS agent, says he has fielded "daily" inquiries since he took out ads in the Palm Beach Post and elsewhere in late December seeking to attract investors burned by Madoff.
"I'd sue everybody, I'd sue the trust, I'd sue the feeder fund, for lack of due diligence," Mr. Cosner says.
But for now, the best option may involve taking advantage of the federal tax code.
---