GM, Chrysler bailout: bankruptcy on the cheap
GM is asking the US Treasury for an extra $16.6 billion. Chrysler wants another $5 billion.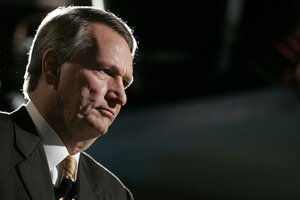 Carlos Osorio/AP
General Motors and Chrysler are trying to achieve the same kind of massive restructuring that would occur in a bankruptcy. But they're trying to do it minus the extra costs of a courtroom setting.
That's the strategy that the cash-strapped carmakers filled in by submitting lengthy viability plans – and an appeal for nearly $22 billion in additional loans – to the US government Tuesday.
GM said its survival depends on getting some $16.6 billion more from the Treasury Department, on top of $13.4 billion it has already received since December. Chrysler seeks $5 billion, in addition to $4 billion already received.
Their viability plans, submitted to meet a deadline imposed by the Treasury, sketched a progress report on steep cost cuts and restructuring plans that the companies said would put them on a path back to profitability.
It won't be easy.
Before they win new government backing, they need to convince an Obama administration task force on the auto industry that their plans are realistic.
"The short term situation is so dire, … they have to get government aid if they're going to survive," says Don Grimes, a University of Michigan economist who follows the industry.
When would bailouts end?
At the end of a Tuesday night press briefing on its viability plans, one reporter's question seemed to sum up the challenge facing GM's management: How can the Treasury and taxpayers be sure that the company won't come back again and again and again for more money?
Rick Wagoner, GM's chief executive officer, replied that the key to long-term viability will be successful car designs and technology for new generations of more fuel-efficient cars.
---