Obama mortgage aid targets distressed homeowners
The White House will use $75 billion to subsidize the loan payments of distressed mortgage-holders.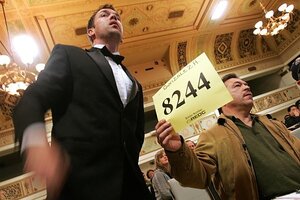 Tony Avelar/The Christian Science Monitor
President Obama is approaching America's burgeoning foreclosure problem with a bag full of new taxpayer-financed incentives to entice lenders to make millions of mortgages more affordable for distressed homeowners.
In a much-awaited announcement, the White House said Wednesday it will use $75 billion already authorized by Congress to essentially subsidize the mortgage payments of millions of Americans whose homes are now worth less than they owe. Much of the money will go to banks to reward them for amending mortgages to make them more affordable, but homeowners will also get a financial bonus for staying current with their mortgage payments.
Money would also be used – beyond the $75 billion – to bulk up Fannie Mae and Freddie Mac, the government-owned buyers of mortgages. This would allow them to acquire more loans.
"This is not a silver bullet, although I don't think one exists," says Mark Zandi, chief economist at Moody's Economy.com. "This should be helpful to stem but not stop the continuing rise in foreclosures."
Is the plan big enough?
While the White House plan involves billions of dollars, the size of the problem is even larger. Some $500 billion in mortgages, Mr. Zandi estimates, are underwater – meaning the value of the mortgage is higher than the value of the house.
"There is no way to help all $500 billion," he says.
---