Who's to blame for automakers' woes?
The industry itself bears some, but not all, of the responsibility, as GM and Chrysler seek more US aid.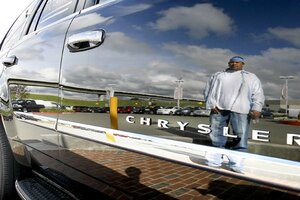 Tony Avelar/The Christian Science Monitor
The rising price tag for the possible bailout of General Motors and Chrysler reflects some challenges that are particular to Detroit and the car industry, but also some problems that are much broader – ones at the core of the current US recession.
No doubt about it, the industry got itself into a big mess. The Detroit carmakers were unprepared when gasoline prices surged past $2 a gallon, then $3, then close to $4. For years, management and the United Auto Workers crafted labor deals that proved to be unsustainable in the face of growing foreign competition.
But as GM and Chrysler seek an additional $21.6 billion in emergency loans from the government, other factors are also at play. Like much of the US economy, the challenge for Detroit now involves things like sagging pension funds, tighter access to credit for consumers, and questions of whether government can provide a bridge toward recovery.
"It's a symptom of what we're facing as a country right now," says Don Grimes, a University of Michigan economist who follows the auto industry. "They need people who can get loans in order to buy the product, which is a problem with the whole private sector now."
---
Follow Stories Like This
Get the Monitor stories you care about delivered to your inbox.