Older workers pursue job-search skills
Laid off after long careers, they must adjust to today's job-seeking scene.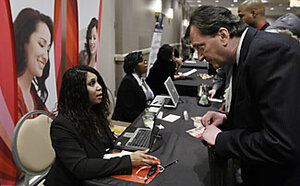 M. Spencer Green/AP
After a 25-year career in property management, Betty Clark received a pink slip last July. For the first time in a quarter century she had to start job-hunting, this time in a vastly changed employment universe.
"The difference is like night and day," says Ms. Clark of Boston. "When I went into property management, you would type up your résumé, go to a prospective employer, fill out an application, and leave your résumé. You met people. Today you're doing everything electronically. You're losing the personal connection."
It is a feeling shared by many longtime workers who have been laid off recently. Although they have accumulated decades of skills and knowledge, they must take a totally new approach to finding a job.
"Some need serious assistance in getting back in the workforce," says Joan Cirillo, executive director of Operation ABLE of Greater Boston, a nonprofit that helps those 45 and over get back to work. "There's such a need for resources that will help older workers."
Clark's desire to enhance her skills has propelled her into a 10-week class at Operation ABLE called Operation Service. She and a dozen other students are learning proficiency with computers. They also meet with employers, attend job fairs, and receive tutoring in résumé writing and interviewing.
"Some companies want you to attach the résumé, and other companies want you to put it in the body of the text," Ms. Cirillo says. "When you're sending an electronic résumé, you want to use as little underlining, bold, and italics as possible. In a hard copy, people can make use of underlining, bold, and italics to highlight things and to separate information."
---