Detroit's auto troubles test brand loyalty
General Motors will drop four of its eight nameplates. What about service and warranties?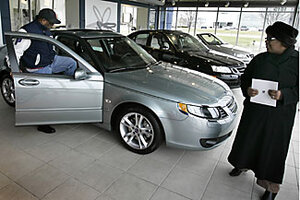 carlos osorio/ap
Scot Roskelley wanted a Saab his entire life.
He learned to drive stick shift on one as a teenager. He loves its little quirks, like the way its ignition is mounted on the floor and not the dash. He trusts his local dealership to regularly service his 2002 Saab 9-3 hatchback and no one else.
So when he learned last week that General Motors, which owns Saab, plans to either sell or phase out the Swedish subsidiary by 2010, Mr. Roskelley was stunned.
"I kind of gasped a little bit," the Chicagoan says, "Is that the death of the car? One of the first things you worry about is what will the accessibility of parts be like if they stop?"
That sentiment is being shared among many car owners who feel they are being forced to divorce from automotive brands they have been loyal to, in some cases their entire lives.
GM's restructuring plan includes selling or discontinuing Saturn by 2012, downsizing Pontiac into a niche division with a smaller lineup of vehicles, and selling its Hummer brand of light trucks.
The plan GM submitted to the federal government – a condition of receiving bailout money – shows a leaner company: Instead of eight nameplates, GM plans to operate with just four: Chevrolet, Cadillac, Buick, and GMC.
In a time when mass layoffs are announced in every sector of the workforce and consumers are struggling to hold onto their homes, it is hard to imagine that brand loyalty is still a factor among new car buyers.
---