End of home price slide in sight?
January prices slipped more, but may help clear the glut of homes, stabilizing the market.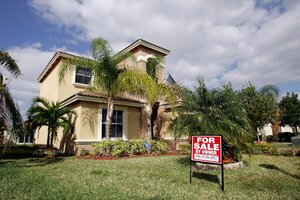 Alan Diaz/AP
The bright side of falling home prices is this: Most of the decline is probably over, and it should help to correct the nation's serious imbalance between housing supply and demand.
That's the view that many housing experts take, after a year of historically sharp home-price declines. The median sales price of existing homes fell in January to $170,000, down from $176,000 a month earlier and $200,000 a year ago, according to numbers released Wednesday by the National Association of Realtors.
Of course, the negative side of this trend also is real and weighs on the economy. As home prices fall, so does the net worth of homeowning families. The prospect of more foreclosures grows. That won't do anything to help the nation's troubled banking sector, which would be stuck with many of those losses.
But somehow the economy needs to work through a glut of homes on the market, an imbalance so large that falling prices are seen by many as the way to get there.
The big question is where prices will settle. The answer could vary a lot by region and will depend on where the broader economy heads.
"I think house prices will be done declining within the year," says Morris Davis, a University of Wisconsin economist who studies real estate. But, given today's uncertainties, he cautions that "anyone that tells you that they know, doesn't know."
January saw not only a price decline but also a reduction in sales volume for previously owned homes. Sales ran at an annualized pace of 4.5 million units, down from 4.7 million in December and 4.9 million for much of last year.
That pushed up the inventory of homes for sale. A 9.6-month supply of homes is now on the market, well above typical rates of six months or so. Some analysts say the inventory could rise still higher during the busier spring season, as more sellers put homes on the market.
---