Jump in new jobless claims
The sharp rise in claims in recent weeks suggests that the pace of unemployment is not slowing down.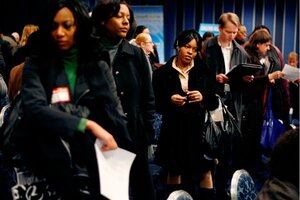 Seth Wenig/AP
NEW YORK – The economy's performance continues to degenerate even faster than many economists had expected.
The latest evidence: New jobless claims last week jumped to 667,000, up from 631,000 the prior week. At the same time, a record 6.5 million Americans are receiving unemployment benefits, the highest percentage of Americans since the recession of 1983.
"We were hoping for some moderation in these numbers, but it looks as if the pace may actually be increasing," says Scott Brown, chief economist at Raymond James & Associates in St. Petersburg, Fla. "What we're seeing is you can't just go out and get new jobs right away."
The sharp rise in jobless claims in the last several weeks may indicate that the February jobless numbers to be announced next Friday will continue to rise. In January, the unemployment rate was 7.6 percent. Mr. Brown says it may jump to 7.9 or even 8 percent.
"At this rate it could be 9 percent by the summer," he says.
At the same time, on Thursday, the government reported orders for big ticket goods were weaker than anticipated, falling 5.2 percent for January. Orders have now fallen for six consecutive months. This indicates companies are continuing to cutback on investing in new plants and equipment.
---