Obama gives lawmakers a budget plateful
GOP says the White House plan means more taxes on all Americans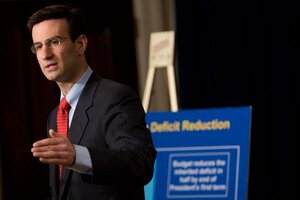 Zbigniew Bzdak/Chicago Tribune/NEWSCOM
If there's one place President Obama's new budget is sure to put people to work, it's Capitol Hill.
That's because Obama's fiscal 2010 budget outline, sent to Congress on February 26, calls for legislative changes in US domestic policy as far-reaching as any made since the Great Society years of Lyndon Baines Johnson.
The budget sets aside cash for a down payment on universal health care, for instance. But health spending accounts for 18 percent of US GDP. The issue involves so many people's livelihoods, and is so complex, that this alone could take up huge amounts of congressional time and energy.
But wait -- there's more!
Obama's budget also assumes that Congress will pass a "cap-and-trade" system of pollution permits in the name of reducing greenhouse gas emissions. That would be one of the biggest changes in US environmental policy, ever.
And still more! The budget calls for deep reductions in subsides for farmers, as well as higher taxes on the wealthy, and other potentially controversial fiscal changes.
To weigh all these big issues in a timely manner will require that Congress do more than walk and chew gum at the same time. In legislative terms, this means Congress will have to walk and chew gum while translating Charles Dickens into Hebrew and calculating Earth's gravitational interaction with Mars.
Is that too much for lawmakers to handle?
"I sure hope not," said White House budget director Peter Orszag at a briefing for reporters. "We face very large problems that need to be addressed, and we can't wait to address them."
---