Ireland's boom ends – with a vengeance
Protests and anger grow as 'Celtic Tiger's' economy takes nosedive.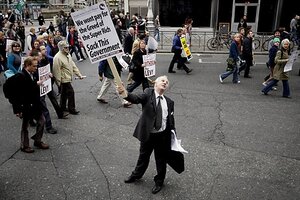 Peter Morrison/AP
For nearly a decade, Ireland enjoyed a steady rise to one of the world's hottest economies. In just a few short months, though, the nation has cooled to a near freezing-point. And with each passing day, the situation grows more dire.
Iconic native businesses, like Waterford Crystal, have shut up shop. Multinationals, such as Dell, are relocating to low-wage economies in eastern Europe. Banks are being raided and taken over by the government.
Ireland's downfall is proving to be as dramatic as its recent rise. Not long ago, it was a backwater languishing on the fringes of Europe, but Ireland's educated and English-speaking workforce and low tax rates transformed it into a powerhouse that acted as a bridge between the United States and markets in the European Union. Until last year, the country enjoyed a decade of near continuous economic growth, earning it the nickname "the Celtic Tiger."
As the economy grew, house construction boomed, bringing with it an overheated property market. Banks responded with easy mortgages. Personal debt ballooned. Now that finance has dried up, the construction sector has atrophied, and jobs are starting to be lost across the economy.
"The official forecast is for a 6 percent decline in growth," says Anton Murphy, economist at Dublin's Trinity College. "I think it will be bigger than that."
---