As job market shrinks, so do college grads' grand plans
The best prepared are finding jobs, but others are having to consider internships or living at home.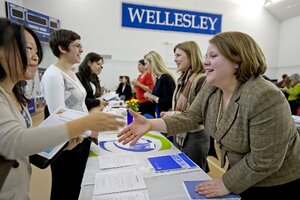 Ann Hermes/The Christian Science Monitor
Call it "A Tale of Two Seniors."
For Alesandra LaPointe, who has prepared for life after college by doing two internships and frequenting the career center as though it were Starbucks, it is the best of times. She has a job lined up.
For Chris Moberg, who started his job search in earnest only three months ago, it is the worst of times. He doesn't have a single job interview scheduled.
After years of plenty, the job market is shrinking. Hiring of new college graduates is expected to drop 22 percent this spring, according to one survey. The most prepared graduates are finding jobs, but others are rethinking plans dreamed up during the good times – considering bunking with Mom and Dad or an internship instead of a job.
"There are opportunities out there, but they're going to go to the young people who are focused,... [who] know what they bring to the table ... and use their connections wisely," says Philip Gardner, director of Michigan State University's Collegiate Employment Research Institute.
Firms trim hiring
Small companies that had expected to keep growing are having trouble getting credit, he says. Companies that had planned on a wave of baby boomer retirements are seeing those employees stick around much longer.
---