Economic crisis scrambles retirement math
The 401(k) model of saving is under duress as stocks slide. Home equity losses don't help.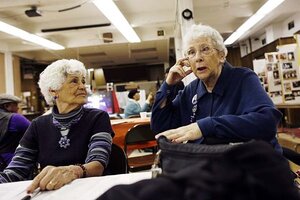 Shannon Stapleton/Reuters
The recession has pushed retirement further out on the horizon for millions of Americans – and is putting severe strain on the 401(k) model of retirement saving.
If that wasn't already clear, a bout of stock market selling early this week brought the challenge into sharp relief, as the Standard & Poor's 500 index closed at a level not seen since 1996, down more than 50 percent in 17 months. Coupled with huge losses of home equity in the housing market, the result is a historic decline in net worth for US households.
The downturn on Wall Street is still far from matching the nearly 90 percent drop seen in the Great Depression. Many investors are hoping portfolio values will get an upward bounce later this year, if markets begin to focus on recovery rather than risk.
But the setbacks faced by retirees and by workers trying to build nest eggs could have lasting impacts. These may include new policies designed to make retirement funds less exposed to market volatility in the future. At the very least, families are having to save more and to do damage control on retirement plans that have sunk in value.
"The hit is very significant," says Rick Miller, who runs a financial planning consulting firm in Cambridge, Mass. "I'm encouraging people to try to stay on an even keel. And to make decisions that are appropriate to their circumstances."
That may mean sticking with volatile investments, but not in every case.
---