Time is 'running out' to save US automakers
As auditors question GM's viability, creditors and labor unions must negotiate, analysts say.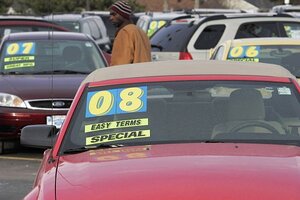 Frank Polich/Reuters
If it wasn't already clear that the US automobile industry has reached a make-or-break moment, it is now.
The company that audits General Motors, the largest of the Detroit-based carmakers, filed a report Thursday calling GM's viability into doubt.
The report comes as auto sales have plunged, as Chrysler and GM are seeking emergency government aid to survive, and as Ford Motor Co. – which up until now has survived without taking bailout money – is accelerating its own bid to avoid bankruptcy.
A rebound in auto sales would provide vital support, but carmakers can't count on that in the near term.
Survival is on the line for all three companies, analysts say, and may hinge on big concessions from both creditors and the United Auto Workers union.
"[The auditor's report] notifies everyone that … now is the time," says Aaron Bragman, a Detroit-based auto analyst with the consulting firm IHS Global Insight.
March 31 deadline
Concessions may come during negotiations between the various parties and an Obama administration task force on the industry. GM and Chrysler must have viability plans in place by March 31 in order to get more government help beyond the roughly $17 billion they have already received.
---