Doubts rising over plan to fix banks
A fire hose of US funds hasn't ended the credit crisis. So what's Plan B?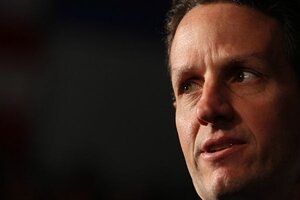 Gerald Herbert/AP/File
Doubts are bubbling up about the current federal strategy for ending the credit crisis, even as the US government puts trillions of dollars on the line to shore up America's shaky financial system.
At the heart of the issue is this: Is all the public money being poured into financial firms helping, or is it delaying the private sector's unavoidable reckoning with losses?
The question is arising in hearings on Capitol Hill. It's surfacing within the Federal Reserve itself. It is showing up in financial markets. This doesn't mean the White House faces immediate pressure to change course, but President Obama and his economic team will navigate some difficult choices in the weeks ahead.
The options, economists say, include asking Congress for a lot more money for banks, hoping that the money committed to date will be enough to fuel an economic recovery, or reshaping policies so that bank investors shoulder burdens instead of taxpayers.
"We talk about this as if we can forestall these [bank] losses" by deploying public money, says Joseph Mason, an economist who focuses on the financial industry. "It might make sense to stop and see if we even can ... address this situation in this particular manner."
Costs up and up
Some symbols of the rising price tag for financial rescues include the following:
•Money committed to the rescue of insurance firm AIG has climbed from an initial $85 billion last fall to $180 billion. That figure could rise further.
---